Portugal: Protests took place in 30 cities, and tens of thousands surrounded the parliament . Protesters threw stones at riot police who respond with a violent crack down, leaving numerous injured. Many local voices claim that this hard repression reminds the days of Salazar's regime.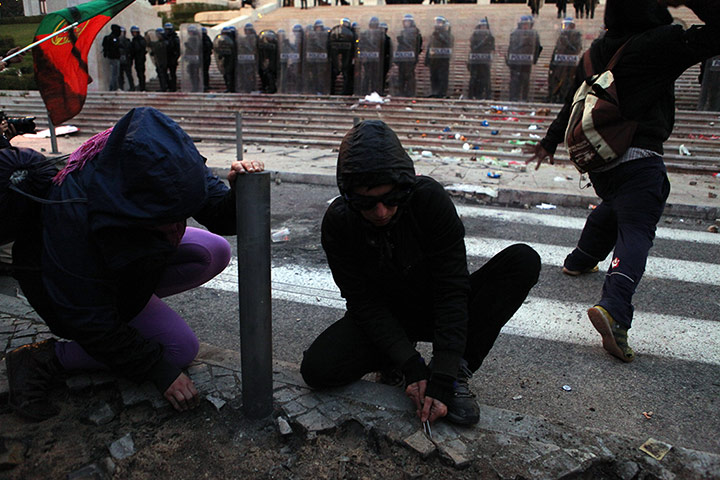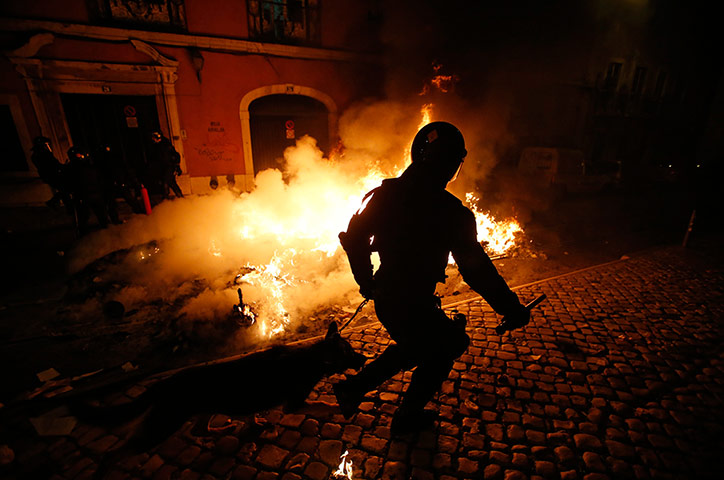 Italy: Over 300.000 took the streets in more than 100 cities in solidarity with Greek, Spanish, and Portuguese workers. In Bologna 10.000 students protested and attempted to march through a line of riot police. In Milan and Rome, classes with the police took place and dozens injured. In Sardinia, the minister of territorial cohesion, Corrado Passera and Fabrizio Barca, fled by helicopter after angry protesters set vehicles on fire. In Genoa, protesters blocked the entrance to the ferry port. In Naples and Brescia, thousands of students occupied railway tracks. In Florence, Venice, Trieste and Palermo, ATM machines were smashed, while banners unfurled from monuments. In Padova clashes broke out between students and police. Finally, in Pisa protesters occupied the leaning tower, and unfurled a banner calling to a general uprising!
Spain: 80 percent of the total workforce participated in the country's second large general strike of the year, putting further pressure on the conservative government. Around 300.000 marched through the streets of Madrid. Barricades were erected and several trash bins set to fire, blocking the streets, while in Barcelona police vans were torched and banks were smeared with paint and graffiti. Police responded with brutal repression, injuring over 70 and arresting at least 140, while a 13-year-old boy in Tarragona was wounded.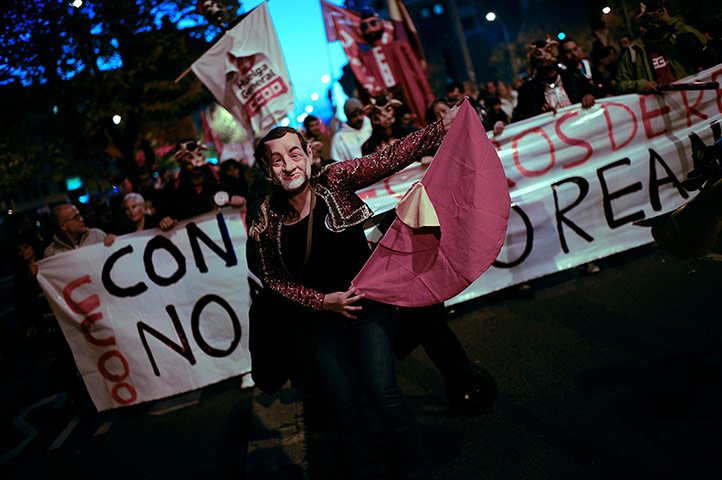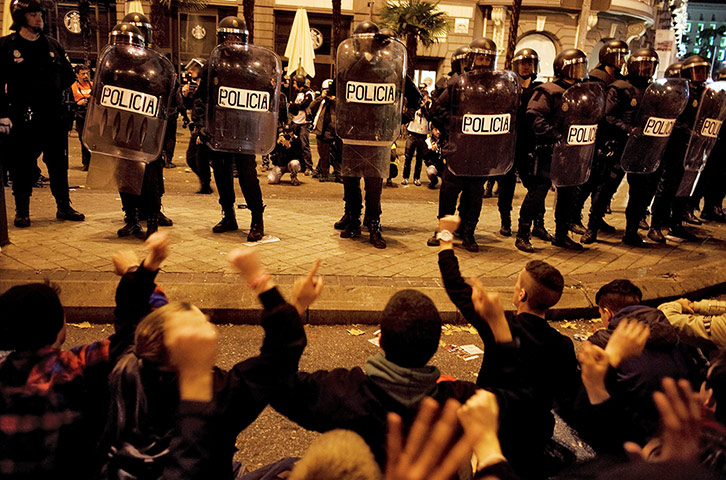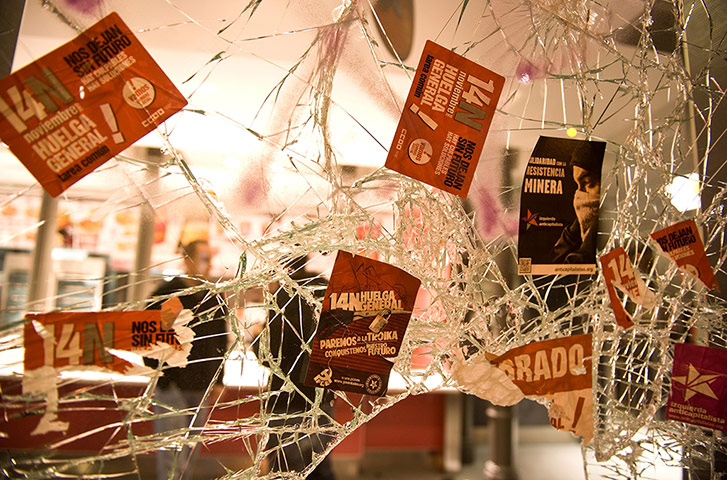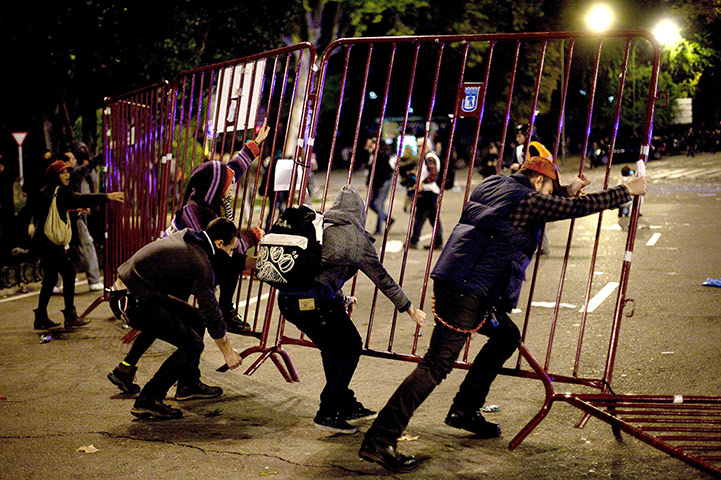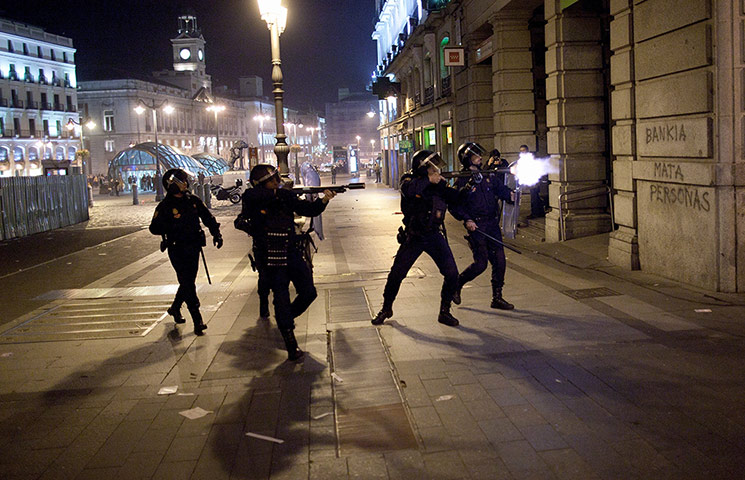 Greece: Tens of thousands protested around Syntagma square (Athens), carrying Spanish, Portuguese and Italian flags.
UK: Protests took place, also, in several cities of Britain. In Glasgow and Edinburgh, hundreds gathered in central squares to show solidarity with Spain, Portugal, Italy and Greece. In London around 1000 people protested outside the EU Commission building, and marched towards Upper Hall Emannuel Center, where trade unionists, leftists, Greek, Spanish, Portuguese and Italian activists delivered speeches to a very warm audience. Meanwhile, police attacks protesters after they blocked traffic on Oxford Street.
France: Protests took place also in France, in solidarity with the Portuguese, Spaniards, Greeks and Italians.
Below, photos from solidarity demonstration in Frankfurt (Germany), Berlin and Cologne
Belgium: Around 1200 people joined the 14N European demonstration
More than 1000 people, also, marched in Lyon (France)